Trying to wire 202U to operate a reverse able motor. Can't figure it out help!!
Hello,
Power up our receiver, and check if it is working properly.
Better use a seperate 12v dc power supply so motor interference will be less.
Set our relays to latching mode according to manual.
Program button A to relay 1, program button B to relay 2, and program button C to special function (enter programming by press simultaneously both learn buttons on receiver, then program remote control button C).
So now when press A, relay 1 on, relay 2 off.
when press B, relay 2 on, relay 1 off.
press C, both relays off.
If above is working, then we can move to following step, connecting motor wires.
Connecting motor wires to relay
Thanks to Quasar Electronics UK, we got the simple connecting diagram as follows.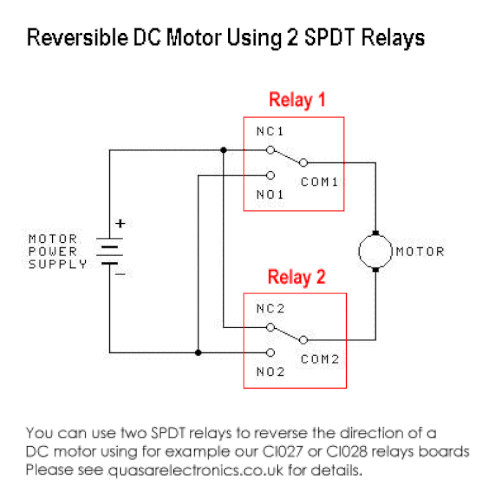 Connect motors to relays terminal according to above diagram.
And make sure the motors doesn't exceed 6A @ 14Vdc current ratings.
Please let me know if you have other questions, thank you.